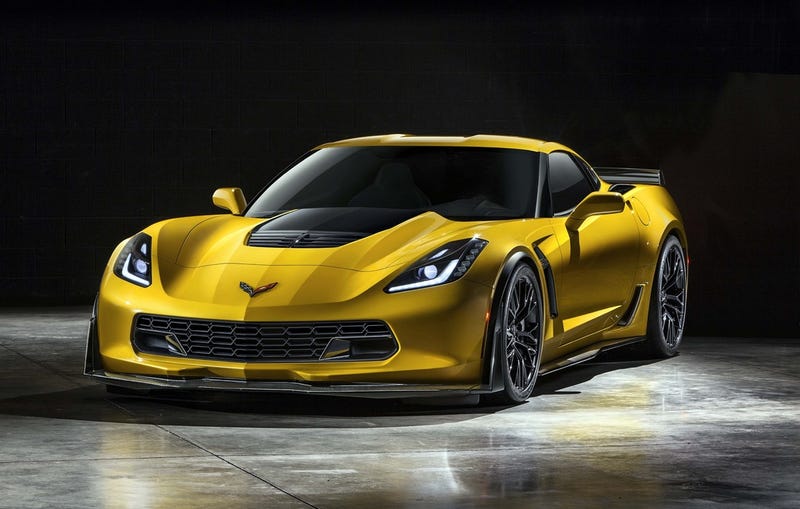 After the meta data leak, I decided I would see if I could dig up any other leaks for the 2015 Z06. If you do a Google Image search for "2015 Z06" click on the "Visit Page" button with the picture of the rear 3/4 view of the Z06 mule with the LeftLaneNews.com watermark, it takes you to this page, which has other pictures, which, to me, seem to be the real deal. Check out that GM Design license plate. The "BACK TO ARTICLE" button doesn't work, and you won't find the pictures by searching on Left Lane's own website.
EDIT: Left Lane news has pulled the photos. The process I described now leads to an empty photo album. They even pulled the teaser Chevrolet had released, which was actually the very first photo that showed when going to the page described above. Oops. Sorry Fast Lane News. Didn't mean to get you guys in trouble!
Now, check out this interior view. Look at the instrument panel at the high end of the tachometer. You'll notice a little "P" in the display. Then, you'll notice that the shifter doesn't resemble the one the in the 7-speed equipped manual cars of the base Corvette. The paddles behind the steering wheel are also marked with just "+" and "-," whereas 7-speed equipped cars have "REV MATCH" printed on them. Is this a sign of the availability of a traditional automatic in the Z06, or is the Corvette actually going to receive some sort of automated manual transmission? There is not trim piece with the "PRND-M" plate like on automatic equipped Stingrays, and there also appears to be a shift patter on the top of the shifter to me. I'm left wondering at this point.
And I know this last one is the same at the top of the article, but it's a larger version.